Here's a list of the top programs that we've purchased and use personally. We know these coaches and training programs will help you to unleash the power of your ultimate potential because they have produced results in our own lives. We only promote awesome products that we secretly wish we would have created ourselves.

The Secret of Deliberate Creation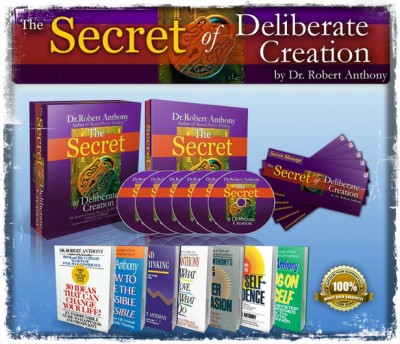 The Number One Reason why you're struggling to create the life you want is because… You cannot achieve success by slapping positive thoughts on top of a lifetime of empty expectations. 
This is NOT about theory – this is about MEASURABLE RESULTS!
You may have been led to believe that all you have to do to "manifest your dreams" is to set your intention, send out positive thoughts, and believe the Universe will magically provide it for you.
You've been told to keep repeating this process, over and over again until the manifestation has happened.
Well, it's time someone finally shot straight with you…
If you approach manifesting the way most of these "experts" tell you to, then you will be very disappointed.
Let me be even more blunt… Books and programs like the "Secret" are insufficient. Period.
While it IS important to set your intention, think positively and have strong belief, this only represents a PART of what you must do to deliberately create the things you desire.
Listen, it's no secret that 95% of all "Self-Improvement" efforts fail. YET it's not usually the person's fault, most people never get beyond information to achieving actual results. This is unacceptable!
In the Secret of Deliberate Creation… Dr. Robert Anthony – who has been teaching the Law of Attraction and manifestation for over 30 years – separates 'scientific fact' from 'scientific opinion'. He reveals how to create rapid change by getting your thoughts, words, and actions into alignment with your desires.
You need to uncover and release the limiting beliefs, unconscious obstacles, and habitual patterns that are holding you back from creating the life you want to live. This revolutionary audio program is designed to help you on this journey.
Learn more about The Secret of Deliberate Creation
Read our review of The Secret of Deliberate Creation – Coming Soon
---
Zen Mind, Strong Body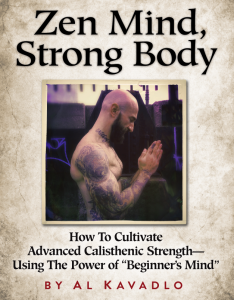 This is a philosophy and training program that will allow you to sculpt a magnificent, warrior-like physique—while maintaining an ever-burning passion to further develop your body, mind, and spirit through bodyweight training and progressive calisthenics.
In Zen Mind, Strong Body, acclaimed bodyweight exercise expert Al Kavadlo presents his "philosophy of fitness"—a philosophy that has allowed him to endure injury-free, while achieving some of the world's most challenging strength movements, be it the One-arm Pull-up, the Human Flag, the Stand-to-stand Bridge, or the Front Lever.
Al's "secret sauce?" A Zen-like attitude to physical cultivation—which marries intense focus with a lighthearted, "joy-in-the-journey" approach. Zen-like too, is Al's insistence on intuitive simplicity and his celebration of personal, direct experience as the most trustworthy teacher.
Zen Mind, Strong Body culls 26 of Al's favorite articles, elaborating his position on a wide spectrum of fitness subjects from diet and supplements, to machines and free weights, to cardio options, to mental training. For Al, though, all roads finally lead to Bodyweight Training—as the supreme path for all-around, everyday athleticism and practical functional fitness.
Want the strength, skill and bodyweight mastery that Al Kavadlo has? Absorb the hard-earned, earthy training wisdom in Zen Mind, Strong Body—and you will be on your way.
Learn more about Zen Mind, Strong Body
Read our review of Zen Mind, Strong Body – Coming Soon
---
The Renegade Diet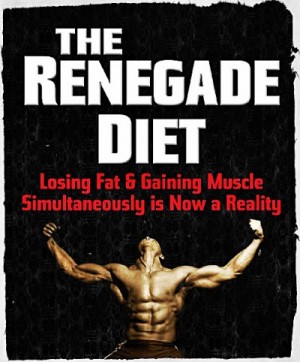 It's time to end the confusion, cut through the nonsense and discover the simple nutrition plan that works. Forget about all the hype and gimmicks.
There's so much confusion in the world of diets and optimal nutrition. Every day there's a new diet book and gimmick out there. Forget about low carbs, ultra high protein and food combining. That's all bullshit! Here's why…
There are three problems with most diet programs out there:
1.With most muscle building diets you gain two pounds of fat for every pound of muscle.
2.With most fat loss diets you lose one pound of muscle for every two pounds of fat.
3.Low carb diets kill your physical and mental performance, and wreck your body.
For a nutrition plan to work it has to be simple. It has to fit and work with your lifestyle. It can't be ultra restrictive and chock full of rules. And you have to be able to eat the delicious foods you love. That's what The Renegade Diet is all about.
To realize lasting health, make an amazing transformation, and build your ideal physique you MUST understand the fundamentals of proper nutrition and how to eat to fuel and nourish your body. You're going to have to break some of those "sacred nutrition rules" the average Joe has come to believe as truth… you're going to have to rebel against the lies and propaganda of the processed food industry… You're going to have to become a Renegade!
Learn more about The Renegade Diet
Read our review of The Renegade Diet — Coming Soon
---
5 Essential Mindsets of Magnetically Attractive Men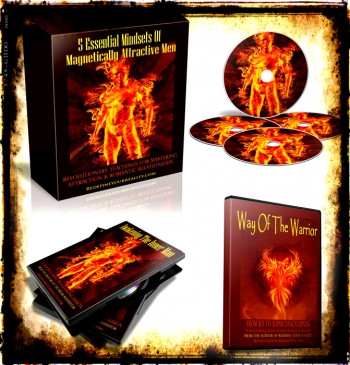 What If You Could Magnetically Attract The RIGHT Women Towards You Almost Magically, Without Effort, Just By Being Your Most NATURAL Self?
If you are in a part of life where you need to prove your masculinity to others by getting laid every night with a different woman, this is probably NOT the right program for you.
However, if you wish to awaken the inner man, who is not only magnetically attractive to the right kind of women, but also a leader of men – who is followed by other men like an elder brother – this IS the right place for you.
This program will turn you into that man, who naturally gets total devotion, admiration and respect not only from his own intimate partner, but also her friends and family. Rejection, loneliness and fear of losing her to the other guy will be a thing of yesterday, a memory from the distant past.
On this new journey, you will become a Hero on a mission. A magnetically attractive man!
This program has been specifically designed to cut down on years of trial and error, and produce results for you so fast that it will appear to many like magic! Yet, it's not magic. It's based on a deeper understanding of evolutionary psychology and the science of mating attraction.
This program has been designed to re-program your mind on all 3 levels: physical, logical, emotional. It's ultimate goal is to help you become a better man, a leader, and your most magnetically attractive self.
Learn more about The 5 Essential Mindsets of Magnetically Attractive Men
Read our review of The 5 Essential Mindsets of Magnetically Attractive Men – Coming Soon